Sweet Potato Pound Cake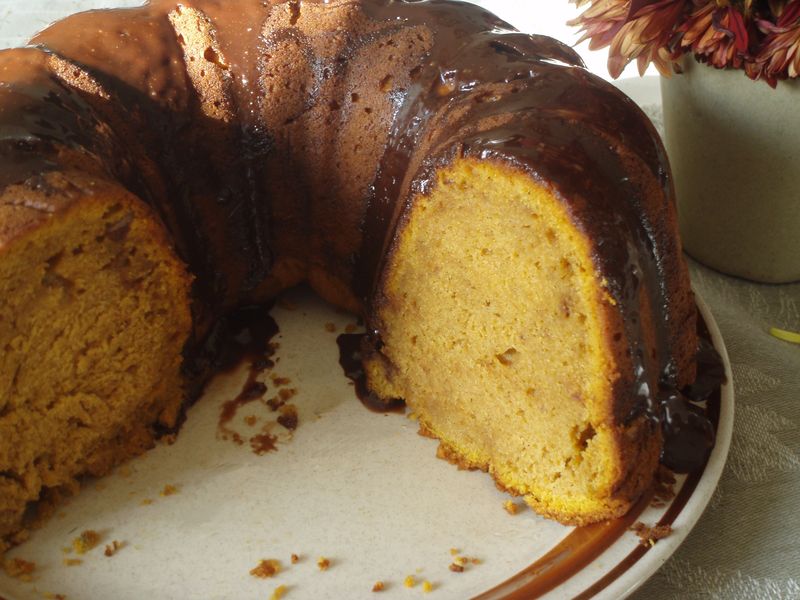 Sweet Potato Pound Cake
Okay- I always buy sweet potatoes in large quantities, so I had leftovers after baking those Sweet Potato Pecan Pie Bars. I reached back in the corners of my memory, and came up with this recipe that I had starred years ago in Maida Heatter's Book of Great American Desserts
, one of my many cookbooks by dessert guru, Ms. Heatter. I had never tried the recipe, but now was my chance (remember, my inner pastry chef doesn't want to go back into hiding), and am I glad I did!
I love this cake. It's tastier than the ubiquitous autumn pumpkin bread- well, I guess that makes sense- sweet potatoes are tastier than pumpkin. It's spicy, rich and moist, with the dusky taste of fall- what's not to love? And I was a little surprised, although I guess I shouldn't have been, to see that it's basically a 1-2-3-4 Cake, with the addition of the sweet potatoes, of course. Again, you must give this cake a try now that there are so many wonderful sweet potatoes in the markets. It's great for dessert, great for breakfast, and great with coffee or tea as an afternoon snack. I glazed mine with a mixture of a bit of leftover fudgy chocolate ganache and fondant, but it's fine unadorned, too.
Sweet Potato Pound Cake
(Adapted from Maida Heattter's Book of Great American Desserts)

2 1/2 cups sweet potatoes, roasted and mashed
3 cups all purpose flour
2 teaspoons double-acting baking powder
1 teaspoon baking soda
1 teaspoon cinnamon
3/4 teaspoon freshly ground nutmeg
1/4 teaspoon allspice
1/4 teaspoon salt
8 ounces unsalted butter
1 cup granulated sugar
1 cup brown sugar, firmly packed
4 large eggs
1 cup pecans, lightly toasted
Butter and flour a 10 inch Bundt pan.
Whisk together the flour, baking powder, baking soda, spices and salt.
In the bowl of an electric mixer, beat the butter until soft. Add both sugars and the vanilla, and cream together until light and fluffy. Beat in the eggs one at a time, mixing well after each addition. Add the mashed potatoes and beat to mix. Then add the dry ingredients in three additions, beating on low speed after each addition, and scraping down the bowl to ensure it's all well incorporated. Add the toasted pecans.
Pour the batter into prepared Bundt pan, and bake for 1hour and 15 minutes in a preheated 350 degree oven.
Bon Appetit