A Menu to Complement a Keg Party- and Korean Beef Taco Recipe
Okay – I have to say that I'm a oenophile (that would be a wino for the uninformed), but when a client called and asked if I would cater a keg party for her husband's birthday, who was I to quibble? A young lawyer, hitting that 35 year mark, with a mortgage, wife and young child wanting to recapture a little of the fun of his college days with some football, Pong and beer- sure, why not?
While it's true that I don't drink much beer, most of the rest of the world does. After all, it's not only the world's most widely consumed beverage after water and tea, but often called the world's oldest alcoholic beverage. And all of those spicy ethnic foods that I love (and that oenophiles often refer to as wine killers), are usually accompanied by beer-not wine.
So I jumped to the challenge.
As I said, beer is a natural to accompany spicier ethnic cuisines, so those are the foods I concentrated on. It was a fun menu, to say the least. Take a look and see what you think. Oh and btw, I've included a recipe for those trendy  Korean Barbecued Beef Tacos that everyone in L.A. is wild about now.
Keg Party Menu
Caramelized Onion Dip with House Made Potato Chips
Shiitake Mushroom Quesadillas Fritas
served with Tomatillo Avocado Salsa
Cajun Popcorn Shrimp
with Remoulade
Small Dishes of New Orleans Red Beans and Rice
with Smoked and Hot Sausages
Chinese Chicken Salad
served in Chinese Take Out Containers
with Chopsticks
Black and Blue Sliders
(Blackened Mini Burgers with
Point Reyes Blue Cheese and Caramelized Onions)
Korean Beef Tacos
with Gingered Slaw and Cucumber Cilantro Relish
  Cajun Popcorn Shrimp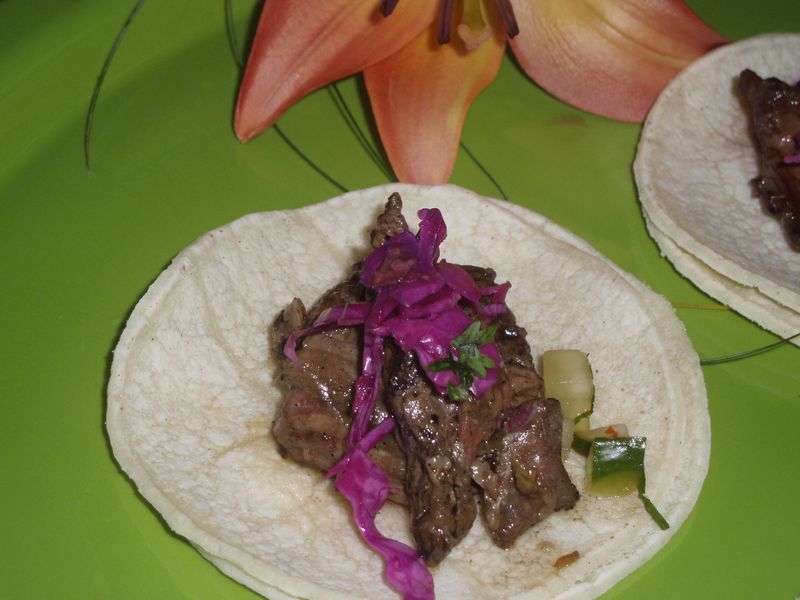 Korean Barbecued Beef Tacos
Korean Beef Tacos with Gingered  Red Cabbage Slaw and Cucumber Cilantro Relish
This recipe is marries a couple of favorite recipes. The Gingered Red Cabbage Slaw (a great addition to salads) is from Barbara Tropp's wonderful China Moon Cookbook
, and the Korean Barbecued Beef a recipe from a vintage issue of Gourmet Magazine, which was originally served in lettuce leaf wrappersand garnished with a Mango Salsa.
Ginger Pickled Red Cabbage Slaw
1 pound head of red cabbage
1 cup of juice of pickled ginger
1 tablespoon finely minced pickled ginger
2 tablespoons plus 1 teaspoon sugar
1 1/4 teaspoon kosher salt
Cucumber Cilantro Relish
1 English Cucumber ( I partially peel mine leaving alternating green and white strips, but it's not necessary)
Juice of 1 small lime
1 teaspoon (or more to taste) Asian chili garlic sauce
2 tablespoons cilantro chopped
Toss the cucumbers with the lime juice, chili garlic sauce and cilantro.
Beef
1/2 cup soy sauce
1/4 cup rice vinegar (not seasoned)
1/3 cup chopped scallion
2 tablespoons sugar
2 tablespoons minced garlic
2 tablespoons minced peeled fresh ginger
1 tablespoon Asian sesame oil
1 teaspoon Asian chili garlic sauce
Pour the marinade into a large ziplock bag with 2-2-5# skirt steak or flap meat cut in to bite sized pieces, and let sit for 30-60 minutes.
Grill the pieces of meat on a ridged cast iron grill pan.
Wrap 5 inch corn tortillas in a damp paper towel and steam for a few seconds in a microwave, or alternatively steam them in a bambo steamer to warm and soften.
Layer two tortillas on top of each other.. Fill the steamed tortillas with the 2-3 pieces of the meat, top with the Cabbage Slaw, and Cucumber Relish.
 Makes @ 40-50 tacos