Starting off with an Early Morning Tour of the Desert Botanical Garden
Ah well, with a very long day and late night before, I didn't exactly get to spend as much time as I would have liked on that "Heavenly" mattress. It was up at 5:30 to get my coffee, journaling and general morning stuff done before it was time to meet the group in the lobby (at 6:45) for our early morning tour of the Desert Botanical Garden.
The delightfully quirky, Ty Largo, PR rep for Essence Bakery (and, also Quiessence Restaurant at the Farm– more about them in a later post), met us in the lobby and supplied with a little packed box of goodies (a wonderfully rich and flaky almond croissant, mini muffins rolled in sugar, and an oversized chocolate macaron) from Essence, a real live Parisian bakery in Tempe, AZ, for our trip. I saved the muffins and macaron for later, but quite enjoyed the croissant- along with a luscious peach I picked up at the downtown farmer's market the day before.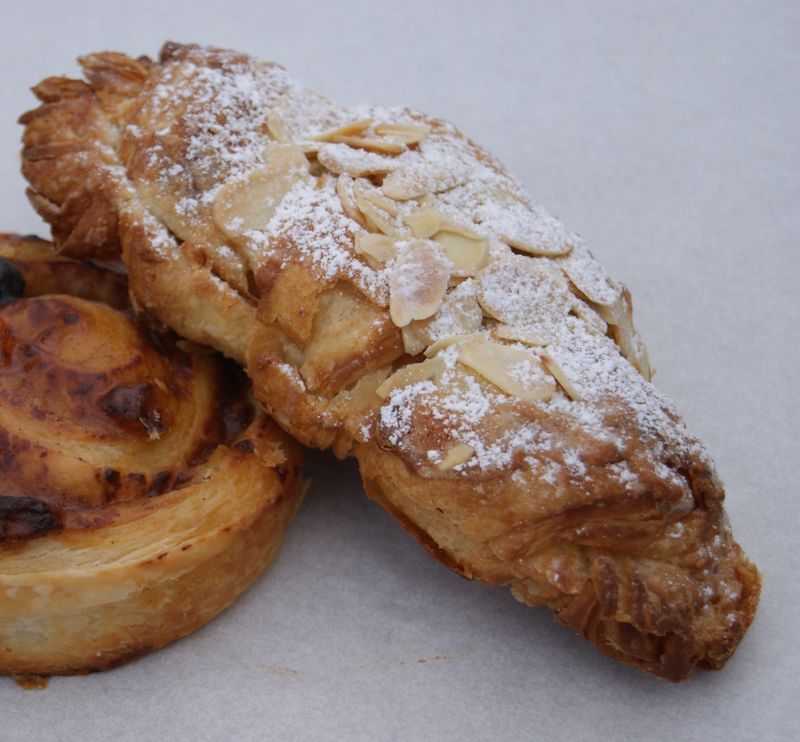 Almond Croissant from Essence
Since it was so early, we had the Botanical Gardens to ourselves. There are some other advantages to an early morning garden tour in Phoenix- it's cooler- big advantage, and we got to see a great night blooming flower that would have shut its petals by the time the mid morning sun's rays began to hit.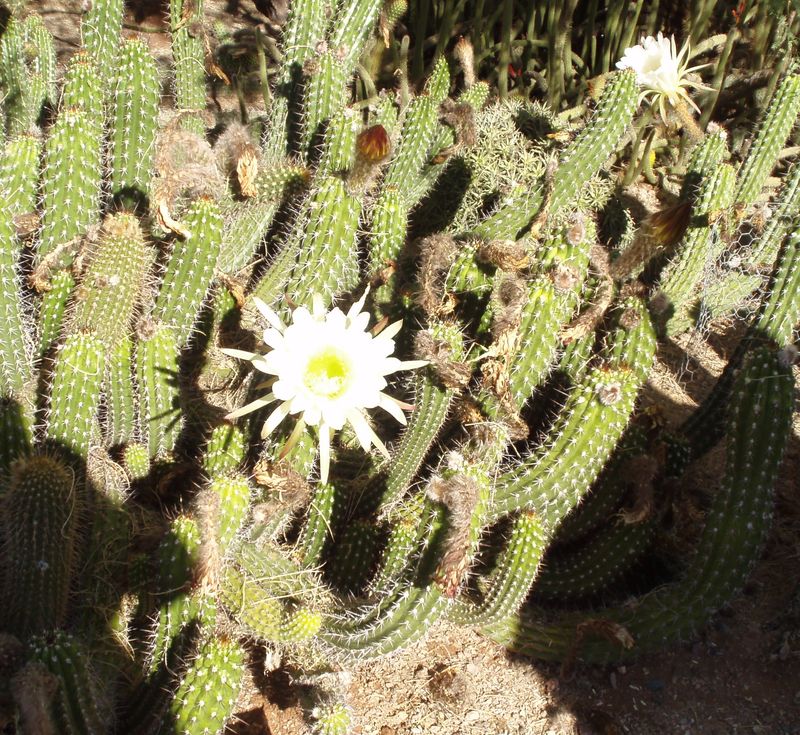 Night Blooming Cactus Flower
Okay- here's the official PR on the Desert Botanical Garden. It:
"hosts one of the world's finest collections of desert plants, and is one of only 44 botanical gardens accredited by the American Association of Museums. This one-of-a-kind museum showcases 50 acres of beautiful outdoor exhibits, and is home to 139 rare, threatened and endangered plant species from around the world."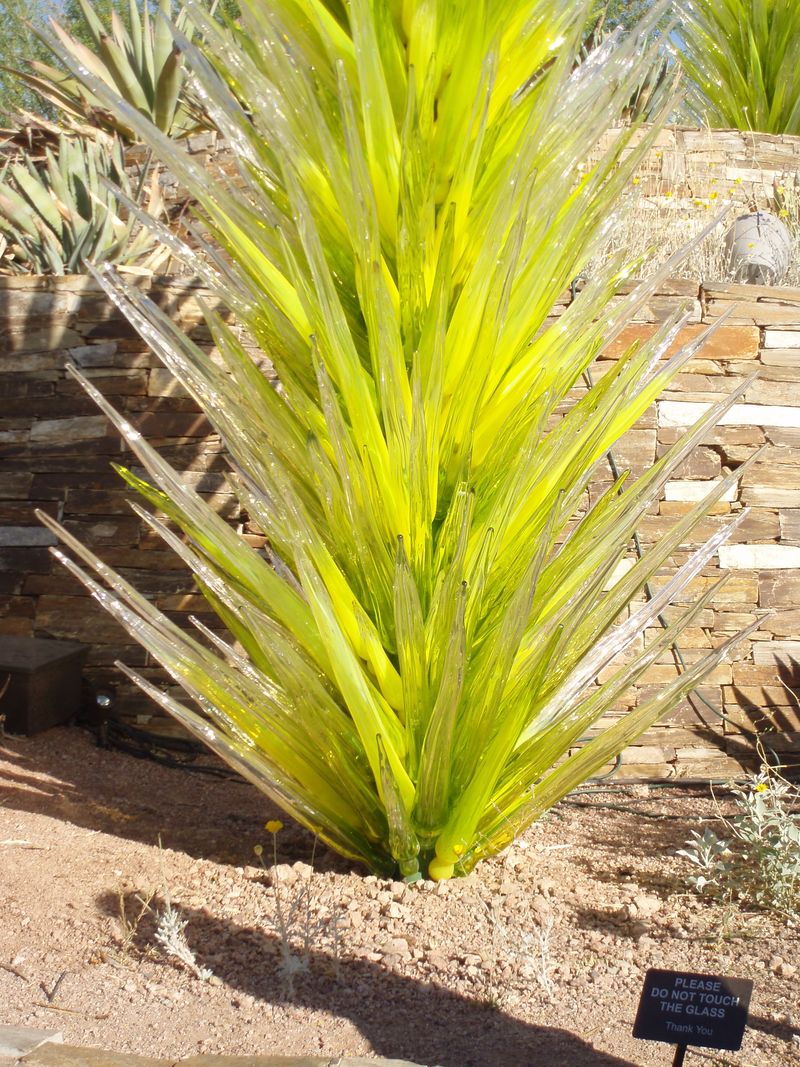 Chiluly Glass Sculptures
Ironically, some of the first desert "plants" we saw were these Chiluly sculptures, greeting visitors at the Garden entrance, and a bit further in, we all just loved the great flower that smelled of an unsweetened cocoa block.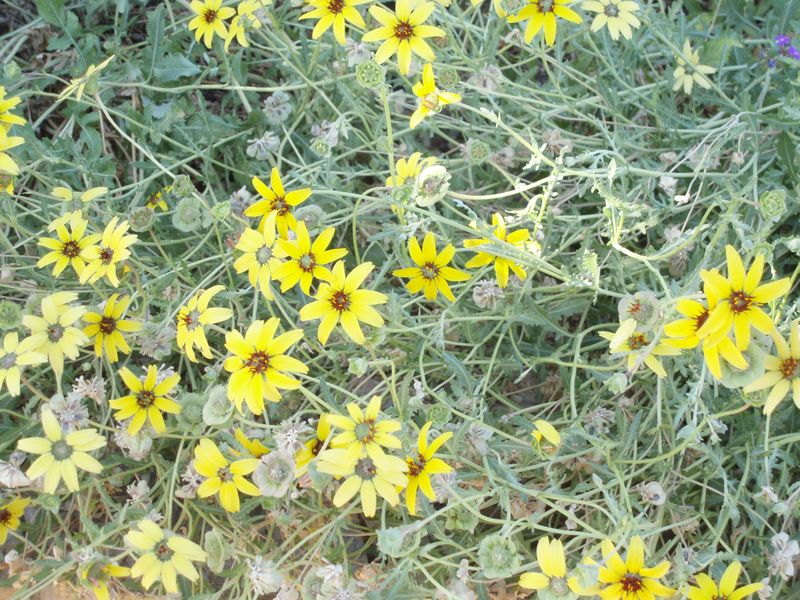 A garden of "chocolate" scents- chocolate flower is also more fragrant in the early morning
We heard about the ubiquitous Saguaro, native to the Sonoran Desert of Arizona-and now protected state wildflower of Arizona, and agave- okay we all know what we love about that plant!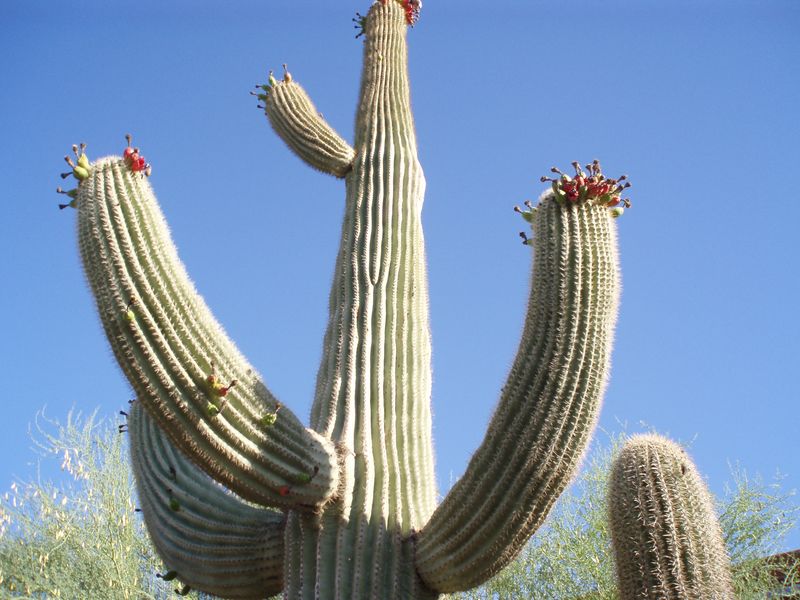 The mighty Saguaro
Then it was back to the van and on to our tour of Arizona wine country- yeah- I know, Arizona wine country-who knew? "Watch the landscape," Emi, our way perky guide at the Garden told us as we parted. "At a certain point, you'll stop seeing Saguaros, then you'll know you've arrived at the frost line."
Tune in next time to hear about the Arizona wine country!
Thanks to the Greater Phoenix Convention and Visitor's Bureau for this wonderful trip!
Ciao Bella!