Create a Cool Cocktail for Your Party- My Best Sangria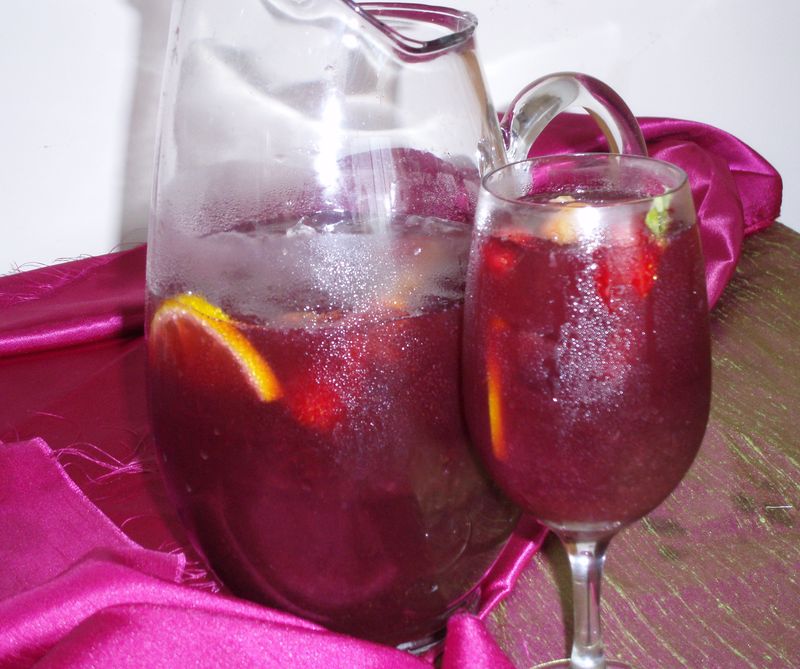 Cool Pitcher of Sangria
Summer heat has hit us with a vengeance in Southern California. It's time for our fabulous tradition of outdoor entertaining, and especially for cool summer cocktails.
Creating a signature cocktail for your party is a great way to add pizazz to your event, and this Sangria is a real crowd pleaser. I have found that on a hot day, Sangria is much more popular with guests than any other wine, beer or cocktails being served at the bar.
I invite you to give it a try at your next outdoor event, and win the praise of your guests!
And BTW, this addictive Sangria goes great with a tapas and paella party.
Sangria
2- 750 ml bottle full flavored red wine (While a Garnacha or Rioja is traditional, I like to use Cabernet)

3 cups fresh squeezed orange juice

2/3 cup fresh squeezed lime juice

1/2 cup fresh squeezed lemon juice

1 cup Triple Sec

1/2 cup Cognac

@ 16-20 oz. 7-Up or Sprite

A

healthy pinch of cinnamon
Garnish with sliced peaches, lemon, oranges and  halved strawberries. Serve icy cold.
About 8 servings
Save
Save
Save
Save
Save