Arizona Wine Country- Who Knew?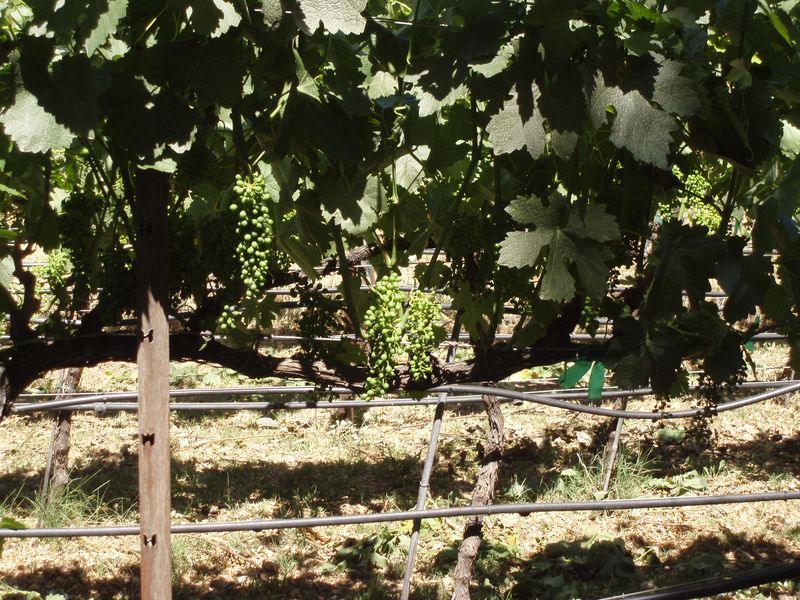 After our Botanical Garden tour, it's back on the van for us, and we're headed to (yes, from the "who knew?"  department!) the Arizona wine country, with a stop at a resort in Sedona for lunch.
Some of our group is missing this morning- it was a very long day yesterday, and a very early morning.
The Gardens were pleasant- quiet and densely packed with beautiful and exotic plants, although our guide, Emi, was a bit too perky for me so early in the morning. Okay, honestly- it's probably better if I'm left alone early in the morning, and maybe others should be warned to stay away.
Emi told us that at a certain point, we'd stop seeing the saguaros, and we'd know we had passed the frost line. Frost line- that's right. Our guides through the wine country told us that, generally, the first thought people have about growing wine grapes in Arizona is that it's too hot, but the truth is, it's frost that poses potential problems.
We're headed onto Highway 17 towards Flagstaff, and the high desert area. I keep an eye on the scene passing us, watching for the change in topography.  So far, it's a pretty uninteresting landscape on the highway outside the van's window-fast food outlets, cheap motels, industrial parks. So I turn to poring over the wineries' press kits. About half an hour later, I look up to see that the landscape has changed somewhat. It's no longer the suburban, industrial scene- now we are on a two lane highway, a slightly mountainous road, but still lined with rocks and saguaros. 9:25 A.M.-another 40 minutes are so, and there are no more saguaros. It looks like an inland California highway  now, with scrubby, mountainous brush. I estimate that we are about halfway there.
By 9:45 the roads are beginning to take on a reddish tinge here and there, and we're approaching Fort Verde State Park. After a little initial confusion on the part of our driver, we exit on to a blue highway towards Cottonville, AZ, ending at our first stop, Page Springs Cellars  in Cornville, AZ.
Corey Turnbull, Page Springs Cellars' assistant winemaker, leads us from the tasting room, into the vineyards, and barrel cellars. The grapes are grown using sustainable and biodynamic practices, although not certified organic because of the burdensome process of being certified- something I hear a lot- on this trip, and back home from local farmers with whom I shop.
The vineyards are situated along Oak Creek, a fact I learned when I returned home. I had been told to be sure to see Oak Creek when I made it to Sedona, but The Enchantment Resort  where we had lunch in Sedona was situated in Boynton Canyon, not Oak Creek Canyon, so I was happy to learn I had, in fact, seen a part of it.
The Page Springs Cellars wines all strive to express Arizona terroir, we're told, and use Rhone varietal grapes grown in Arizona- Syrah, Grenache, Mourvedre, Petit Syrah– to produce food friendly wines.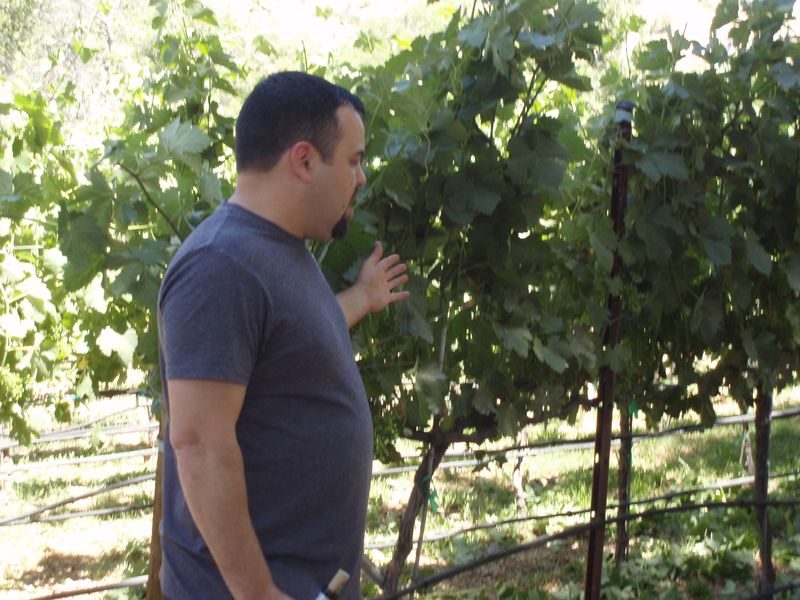 Corey Turnbull leading us through the vineyards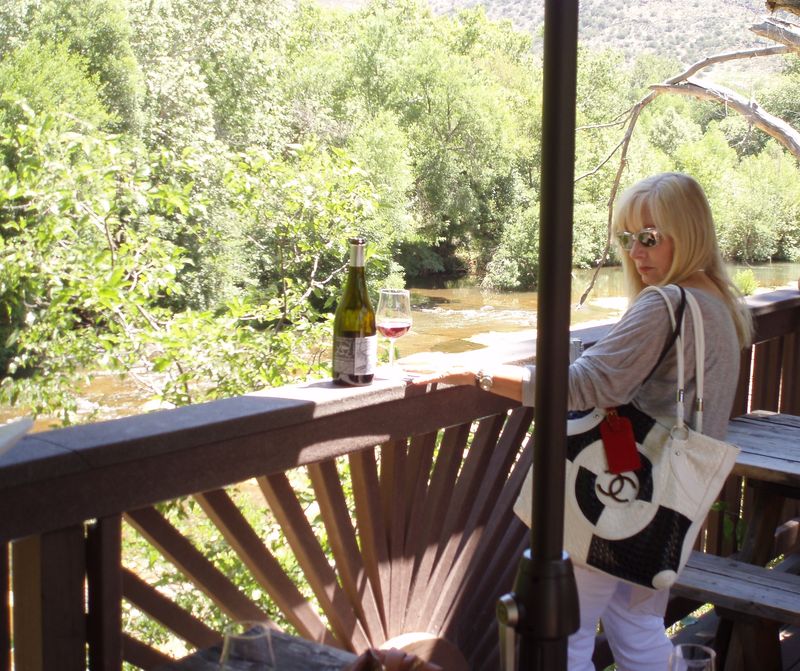 Deck outside the tasting room with Oak Creek in the background
Craig, the winery's PR rep, tells us more than once that these next two wineries on our tour, are the brainchild of Maynard Keenan, the lead singer of Tool (I looked it up- heavy metal rock band)- okay, I'm not quite their demographic, but if they're wine lovers, I'm down with that. Keenan formed a friendship and an alliance with Eric Glomski, founder of Page Springs Cellars, to put Arizona wines on the wine consciousness map.
Then it's back on the bus and on to the lovely, funky former mining town of Jerome to visit the Caduceus  tasting room (bit more about Jerome further down), and the town of Cottonwood where we visit Arizona Stronghold.
It's a longish drive (and we were getting pretty hungry by now) to our next stop- about 45 minutes- through a couple of small town commercial areas and then up an increasingly winding mountainous road, with houses somewhat precariously perched along the steep path, to Jerome.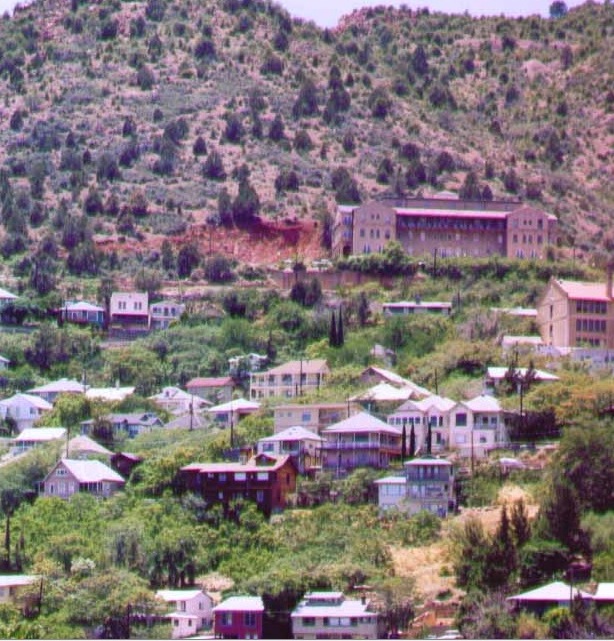 Hillside View of Jerome
I knew we had approached a different kind of place now- a funky little town with a great sense of humor. At the foot of one mountain I see a sign reading "Psychadelic (sic) Mariachi."  Then I see a "love life" shrine of sorts, and a "Mooey Christmas and Udder Things" shop. We learn that Jerome is a former mining town established in the 19th century. When mining dried up, they reinvented themselves as a ghost town, and now it appears, as a bohemian outpost in this red state.
We pull into the main drag where the Caduceus tasting room is located. A statue of Ganesh, the  Hindu elephant god, regarded as the Lord of Success, and Remover of Obstacles (appropriate for an Arizona winery?), sits perched above the tasting room- told you it was a different kind of place. More wines are lined up for us to taste- did I mention we were getting pretty hungry by this time? Ah- and we receive a gift of their Lei Li Rosé. Anyone who knows me knows I love Rosés, so I'm appeased.
We're all enamored with Jerome and beg to spend more time (there's a great little gift shop next to the tasting room, where two of our group- the veteran shoppers- detoured to, and were rewarded with a couple of wonderful and inexpensive finds), but alas, we were told there was no time. Still another wine tasting room to visit.
Last on our tour- Arizona Stronghold, in Cottonwood, another Keenan owned winery, sourced solely with grapes grown in a 120 acre vineyard southeast of Tucson- formerly Dos Cabezas, and renamed Cochise Stronghold (in honor of the Apache warrior) by Keenan and Glomski who acquired the land in 2007 to finally fulfill their dream of creating a true Arizona wine. 
Another bottle of Rosé (a Zinfandel, Grenache, Sangiovese, Malbec blend named Dayden– the Apache word for little girl, and Mangus– named for the father-in-law and brother in arms to Chochise– a Super Tuscan Blend- for me from their tasting room (thank you Arizona Stronghold). Well, to me summer means Rosé, so both of those mighty refreshing wines are already gone, and much appreciated they were. I think the Mangus awaits my Many Mushroom Lasagna to accompany it on a test run.
BTW, Arizona Stronghold Wines are available at Costco and Bev Mo'.
Next-on to lunch in Sedona- did I mention we were very hungry???