Dinner at The Phoenician and Jean-Georges Tuna Tartare Recipe
Okay, after a tour of the Heard Museum (great collection of katsina dolls) and downtown Phoenix, we checked in to The Phoenician. I tested out the really comfortable mattress- which I longed to spend more time getting acquainted with, but it was almost time to get ready for dinner. The consolation prize for no mattress time is that the progressive dinner included a stop at J&G Steakhouse, the star of the resort's several eateries. It's one of the restaurants of world renown chef Jean-Georges Vongerichten, and lucky you, I'm going to share with you a recipe we sampled in just a bit.
We were seated at a table overlooking a patio with fire pits- I know, it seems a bit odd when it's over a 100 degrees outside, but it looked nice as long as we were sitting in the air conditioned dining room. I'm sure the fire pits are great in say- November. The dinner started with an opening cocktail- a Kumquat Mojito (Mojitos seem to be the cocktail of the moment in Phoenix right now- go figure)-nice, but I was ready to eat.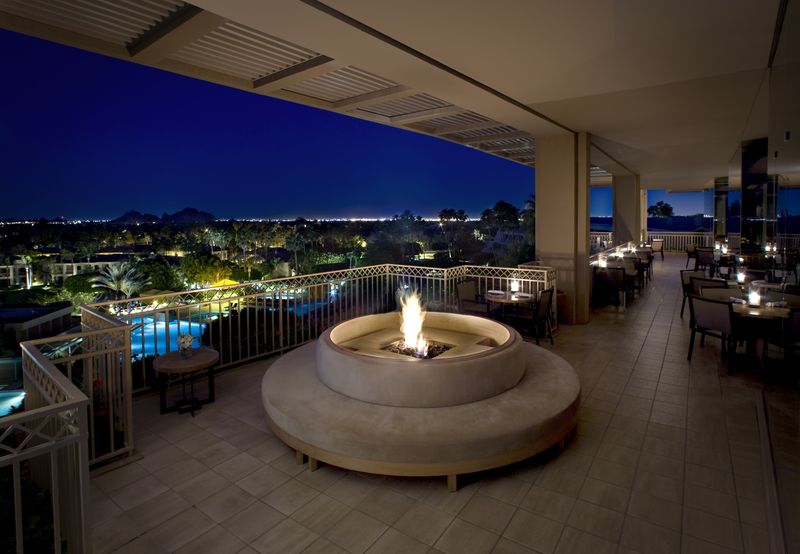 The fire pit and view of the greater Phoenix area, et al
The first course, Tuna Tartare with Avocado, Radish and Ginger Marinade, arrived. I feel that sometimes Tuna Tartare can be a little, well – underwhelming, but the zingy ginger marinade made this one pop. Of course, using the freshest and best quality tuna, and the chile oil drizzled over it helped, too. Note – the wine served with our first courses was an Argentinian Pinot Grigio (Viniterra, 2008) – the oenophiles among you will be interested to know that I was not served a toasted California Chardonnay the entire time I was in Arizona.
Then it was on to a lovely little Shrimp, Avocado and Enoki Mushroom Salad. The shrimp was napped in a beurre blanc (a really nice touch- something creamy and warm on the salad plate for a contrast in textures and temperatures), and a to die for Sweet Corn Ravioli in Basil Sauce- there was a touch of pickled ginger to finish this dish off, too. Well, Jean-Georges is know for his East/West touches. It totally worked for this. The last dish were little squares of Sweet and Sour Pork Belly with a Ginger Shallot Confit. Little bites of pork are always something to look forward to, but this one was a bit too sweet for my taste. Tune in later this week, though. We got a second shot the next day, at a little bit of pork (along with Arizona wines, btw) at the Enchantment Resort in Sedona  which was really yummy!
From J&G it was on to sample a couple other food and drink outlets at The Phoenician, ending with pastries and a sip of a great Chianti Vin Santé at The Praying Monk, a private dining room for small, but select groups. The Praying Monk– ha!-a play on words -it's the name of one of the summits surrounding Phoenix popular with climbers. Of course, I didn't realize that at the time-just thought it was named that because of its European cellarlike atmosphere. It's a great spot to host a dinner for wine connoisseurs as it comes complete with its own sommelier and a 2,200-label wine collection valued at over $3 million.
Anyone want to invite me to their wine tasters' dinner?
In the meantime, you can drool over some of the pics, and also the recipe for the TunaTartare below: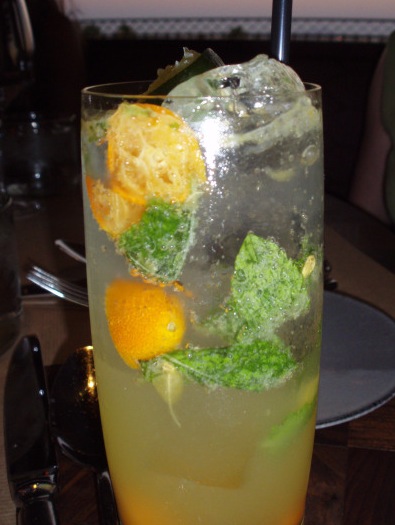 Kumquat Mojito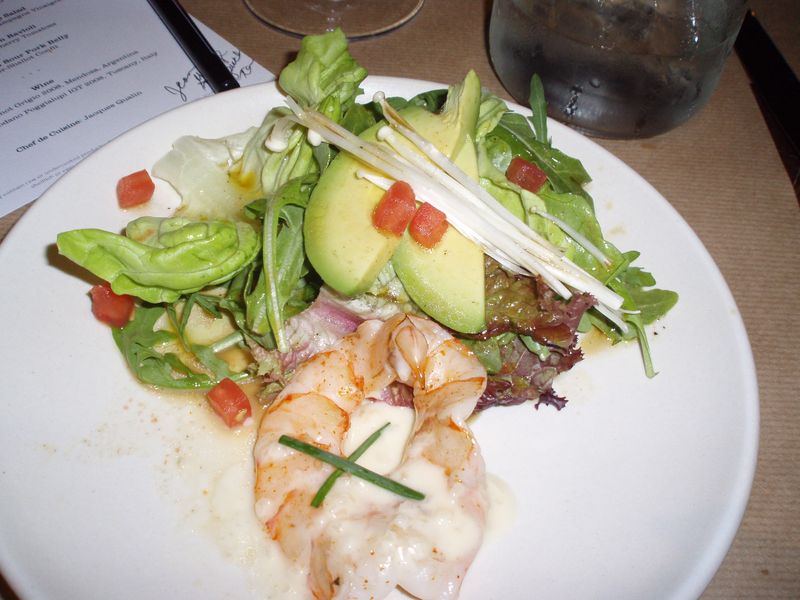 Shrimp and Enoki Mushroom Salad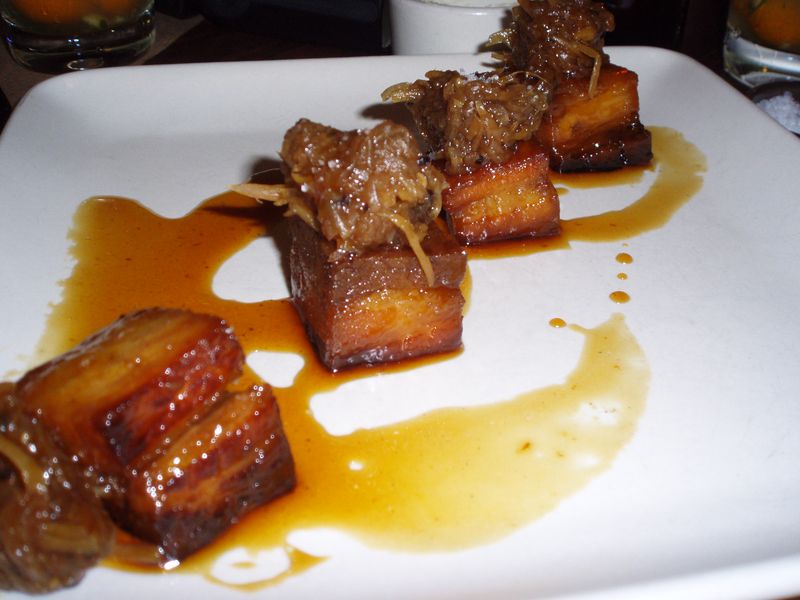 Sweet and Sour Pork Belly with Ginger Shallot Confit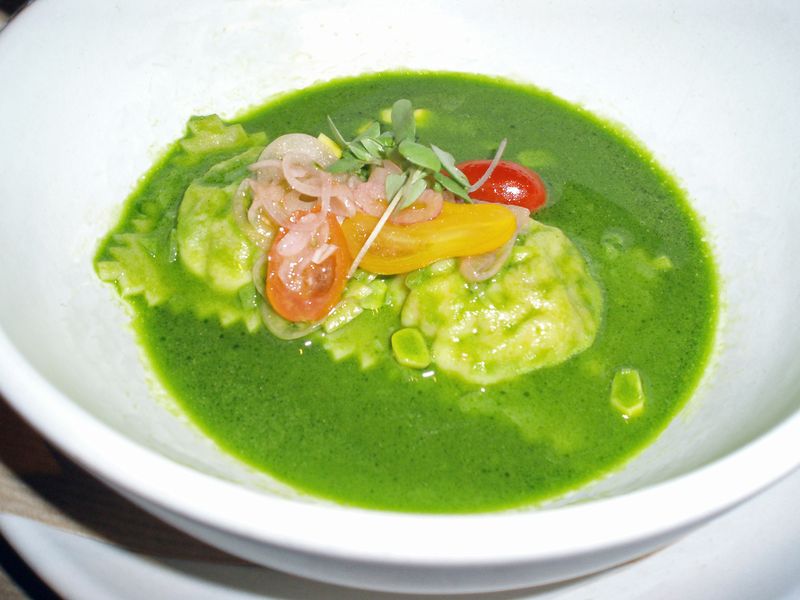 Fresh Corn Ravioli with Basil Sauce
Tuna Tartare with Ginger and Chile
There are a large number of ingredients and several steps to this recipe, but it's certainly doable. You'll have extra oil and ginger marinade leftover to use as a garnish for other dishes, but that's certainly not a bad thing. A visit to Penzey's Spices in Santa Monica or Torrance is recommended to buy fresh spices and the dried chiles, along with a trip to a Thai market for Kaffir lime leaves and Thai chile. Sushi grade tuna can be found at fine supermarkets (i.e. Gelson's or Bristol Farms) or at Santa Monica Seafood. This recipe makes 2 substantial appetizer portions.
6 ounces sushi grade tuna, minced
2 tablespoons olive oil
1/2  minced Thai chile
2 teaspoons minced shallot
1-2 ripe avocados
Ginger Marinade (Recipe below)
Chile Oil (Recipe below)
Radishes
Sea salt
Season the tuna lightly with salt, the minced shallots, minced chile and olive oil.
Chile Oil
12 ancho chiles, seeds removed and toasted
16 dried chipotles, seeds removed and toasted
8 allspice berries
12 cloves toasted
1/2 ounce fennel seeds, toasted
1 ounce piece of mace, toasted
1/4 ounce star anise, toasted
1/4 ounce cinnamon stick, toasted
1/4 ounce salt
Ginger Marinade
1/2 pound ginger
11 1/2 ounces soy sauce
2 1/2 ounces olive oil
9 1/2 ounces champagne vinegar
7 ounces kaffir syrup (recipe below)
Peel ginger and chop it. Puree it along with the olive oil in a blender until completely smooth. Stir in the remaining ingredients. You should have @ 2 cups of ginger marinade.
Kaffir Syrup
1 cup lime juice
7 ounces sugar
1 ounce kaffir lime leaves, chopped
Combine all the ingredients in a pot and bring to a boil. Remove from the heat and cool to room temperature, then strain.
To assemble the tartare:
Mash 1-2 ripe avocados. Mix in salt and olive oil to taste. Thinly slice the radishes, and keep in ice cold water.
For each serving, place a 3" tin mold or cut PVC pipe in a shallow bowl. Fill the mold or pipe with the half mashed avocado, then top with the minced tuna.
Spoon @1/4 cup of the ginger marinade around the tuna, then drizzle with the chile oil. Arrange the radish slices decoratively on top of the tuna.