French Dressing- Revisiting a Retro Recipe
I had the pleasure last weekend of enjoying the company of Greg Henry, fellow food blogger (www.sippitysup.com), fabulous host and all around great guy on my drive up to Camp Blogaway in the San Bernadino Mountains.
We hit upon a staple recipe of our childhood, the classic French dressing, in our wide ranging discussion. Greg has a fondness for retro recipes- and really, who doesn't enjoy a visit down taste memory lane?
We exchanged a few thoughts about the dressing. Should it be tomatoey? Should it be sweet? Greg said the recipe he tried recently was really a classic vinaigrette. I shared with him the following story of how I got the recipe I used.
I have always been a favorite niece of my Uncle Reiss's. He and I share the bond of being artistic types. When I was a teenager, he lived in a large guest house behind a slightly frumpy but grand old Victorian in the Echo Park neighborhood of Los Angeles. I loved visiting him there. I loved the neighborhood and the house that hung a bit precariously over a stretch of the east end of Sunset Boulevard, which in those days of the late 1960's was full of hippie shops selling incense, love beads, and long dangly earrings. I especially loved uncle's bohemian friends. They included Eddie, a dancer who often worked as a movie extra in Elvis Presley movies (he once gave me a menu from a studio commissary personally autographed to me from the King himself), and Lydia Goya, a flamenco guitarist and singer, and the great grand daughter of the famed Spanish painter (actually when I sent this to Uncle Reiss to read, he admitted that he now believes Lydia was an early practitioner of "reinventing" one's self). Oh well… She was certainly a flamboyant character-tall, fiery and elegant with cascading tendrils of red hair and bright green eyes.
Lydia gave me a little pocket cookbook for my 17th birthday entitled Cooking with Astrology, co- written by Mike Roy, a celebrity chef, and Sydney Omarr, a syndicated astrologer, both popular personalities of their day. Now I'm not now, nor have I ever been a big fan of astrology, but I loved that little cookbook. It was "regifted" -which is fine with me, as there's a personally signed greeting to her from Mike Roy, and she, in turn, signed it with her greeting to me. It's chock full of retro recipes and menus matched to each astrological sign, and though its pages are now yellowed, and it's held together by scotch tape, I still refer to it every once in a while.
Roy gives the recipe for French dressing as a sub-recipe he uses as an ingredient in his Caesar salad, the classic á point table side preparation. I often add a bit of it to this day, even when I make the pre- blended sort of Caesar salad dressing, to enhance and add an extra flavor dimension.
So Greg- here's my recipe. And yes, it is a classic vinaigrette- not the orangey, sweet glop of bottled French dressings. I hope you'll enjoy it.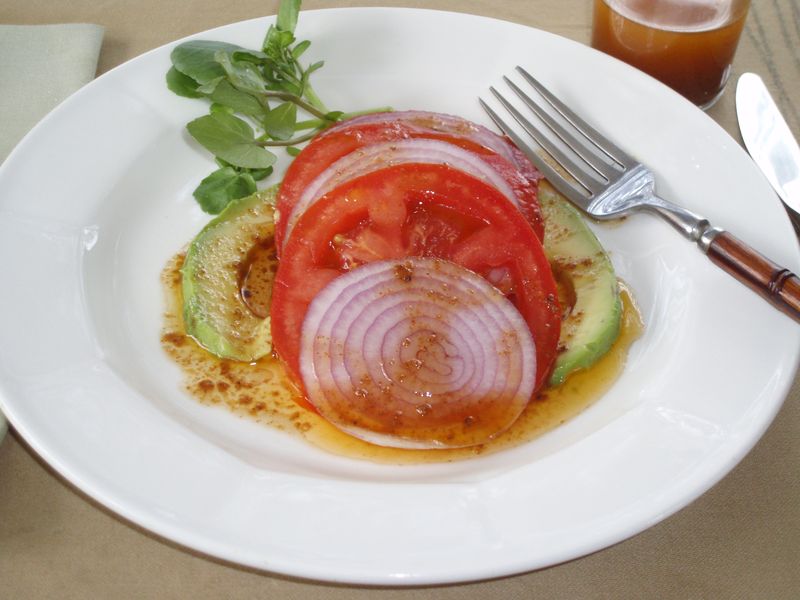 French Dressing
1 teaspoon Dijon mustard
1 1/2 teaspoons seasoned salt
1 teaspoon Worchestershire sauce
1 teaspoon paprika
2 teaspoons onion powder
2 teaspoons parsley, minced
1 1/2 teaspoons sugar
1 1/2 teaspoons crushed black peppercorns
1/4 cup  wine vinegar (although he doesn't specify, I use red wine vinegar- it would probably be great with white wine vinegar, too)
1/4 cup tomato juice
1/2 cup olive oil
1 cup vegetable oil
Combine all of the ingredients in a jar, cover and shake well.
Ciao,
Gisele
P.S. Please visit my other blog:smallpleasurescateringblog