A Mother's Day Brunch- with Mixed Berry Shortcake for Dessert
Is your mother anything like mine?
Mother's Day is the second busiest day of the year for restaurants, after Valentine's Day. Here's what my mom has to say about both those days.
She once told me that my father, when they were young, looking to impress his young wife, took her to a fancy Beverly Hills restaurant on Valentine's Day.
"It was crowded, noisy and the waiters were stressed and over worked" she said.
Now she says it depresses her to go to restaurants on Mother's Day. "I always see some poor old soul from a rest home, whose kids probably rarely go to see her, but take her out to a restaurant once a year."
That's my mom! So we celebrate in. Fortunately all of her kids like to cook and entertain at home – one even made a career of cooking and entertaining (ahem!). After all, Mom has cooked countless meals for us, right?  And if you've followed me at all, you know that I am a real fan of brunch. So often on Mother's Day we'll gather as an extended family, to honor several of the mother's among us with a special brunch.
Quiches or Frittattas are often on the menu, as are cheese blintzes, some great sausages – like chicken and apple – and bagels and cream cheese with all the fixings, washed down by Mimosas.  And, of course, we end with a great springtime dessert, like a Mixed Berry Shortcake with Pecan Buttermilk Biscuits. Fun for the moms, and everyone else, too.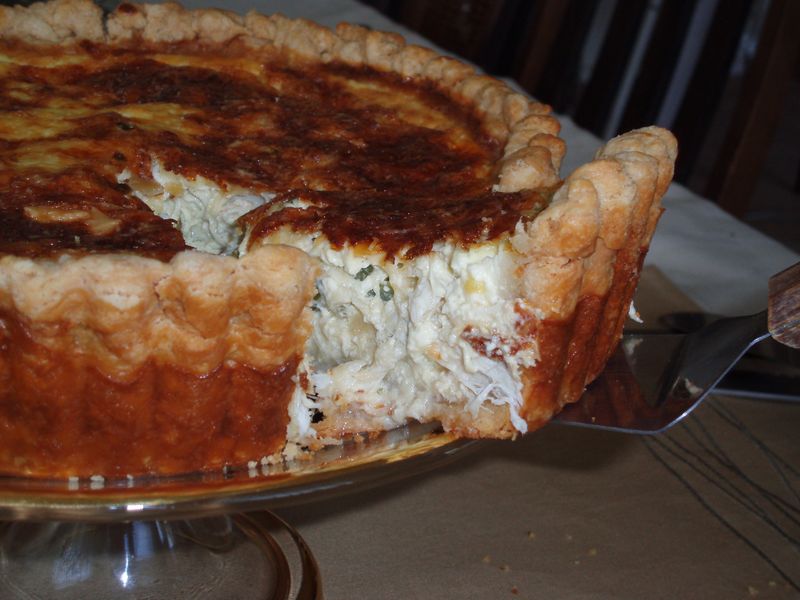 Crab and Asparagus Quiche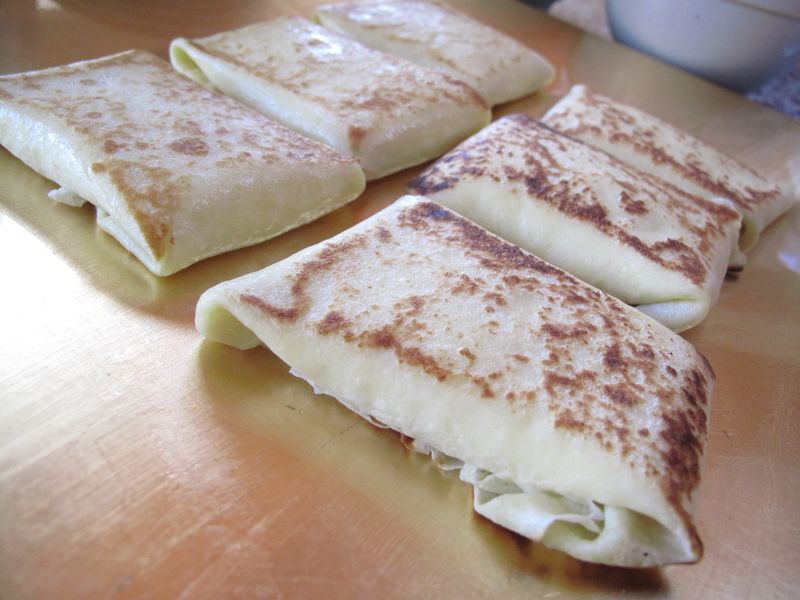 Cheese Blintzes

Mixed Berry Shortcake with Pecan  Buttermilk Biscuits
2 cups sifted cake flour

2 teaspoons double acting baking powder

1/2 teaspoon baking soda

1 teaspoon salt

1/3 cup pecans, toasted  and cooled

5 ounces butter, cut into 1/2′ cubes

2 tablespoons sugar

3/4 cup buttermilk

1/2 cup heavy cream for whipping, plus 2 tablespoons for brushing biscuits

Sugar and vanilla to taste
Toast the pecans in a 350 degree until lightly browned and let them cool.

Pulse the sugar and pecans in a food processor until finely ground.

Stir together flour, baking powder, baking soda, and pecan-sugar mixture in a shallow pan or bowl.

Toss in cubes of butter, and refrigerate for several hours, or overnight.

Pour flour mixture and butter into the bowl of a stand mixture. Watching closely, mix on medium low speed until butter and flour are the size of small peas. Then our in the butter milk until the dough just begins to form a ball.

Dump the dough onto a lightly floured board and knead lightly, then form a rectangle with the dough.

Roll out the dough with a floured rolling pin, giving it several turns according to the following directions.  Roll the rectangle of dough out horizontally to about 1/2″ thickness. Fold the dough in thirds, then turn it so that the short end of the rectangle faces you. Repeat, rolling the dough out into a horizontal rectangle. This will give you nice flaky layers of dough.

Preheat the oven to 425 degrees.

Cut biscuits with a 1 1/2- 2 " cookie cutter,  and place them on a parchment lined baking sheet. Refrigerate biscuits for about 20- 30 minutes to allow the dough to rest. Remove form the refrigerator, brush the biscuits with heavy cream, then bake at 425 degrees for about 10-12 minutes. Cool the biscuits on a rack. 
Mixed Berry Filling
Puree in a food processor:
1 cup sliced strawberries

1/3 cup water

3-4 tablespoons sugar

1 teaspoon lemon juice
 Stir in:

3 cups mixed berries (sliced strawberries, blackberries, blueberries)
Whip:
1/2 cup heavy cream

1 teaspoon   powdered sugar ( or more to taste)

1/2 tablespoon vanilla

Split the biscuits, in half horizontally, fill with Mixed Berry Filling, and top with the whipped cream.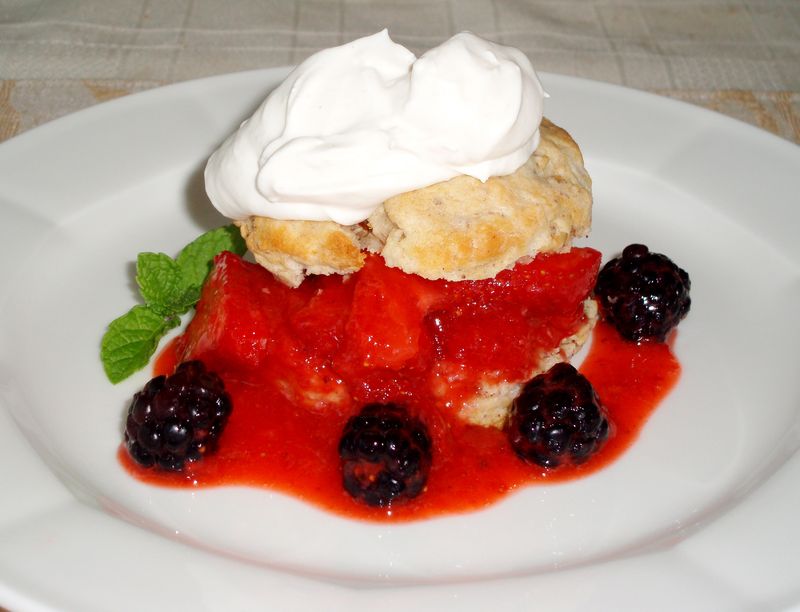 Happy Mother's Day!
Save