The Advantages of a "Boutique Caterer"-Part 2
Okay, here are my further thoughts on the advantages of hiring a "boutique caterer" (I hope you've taken the time to read Part 1 on the advantages of hiring a boutique caterer)-oh, and btw, in case I didn't say it before, let me admit to you right up front that I'm biased.
I strongly believe that unless you're having a party for say, a 1,000 or so of your closest friends (I have to insert a little aside here-a catering friend of mine, who does sometimes cater for a 1,000 or so, once told me that she thought it was pretty easy for a caterer used to doing parties for 100 to scale up to parties for a 1,000. Hmmmm, I wonder if that's easier than the other way around ?), there are definite benefits to hiring a smaller caterer, and getting more attention from your caterer (the owner of the company, not just someone in their office) is one of them, especially if you are having a smaller party. I once had a client who was planning a wedding for 40 guests, tell me that she called one of the big name caterers in town before she called me. "Frankly" she said "I felt like they weren't even that interested in talking with me."
Often larger caterers will preoccupy themselves with the overall operational aspects of the business, but tend to delegate the management of individual events (again, especially smaller events), while the owner of a smaller company will most likely actually show up and work at your event. I make it a point to attend just about all of my events- in 14 years, I've missed only a handful. The larger "household name" catering companies may have several events at the same time, and since they can't be several places at once, yours may not rate them personally being there.
And I know I talked about the staffing advantages with a small caterer last time, but here's another little secret. If a large catering company has several events at the same time, they may have to supplement their regulars with brand new staff, or even temp agency workers. Now it's very possible that the staff will be excellent, but you may very well lose the benefit that comes with people who have worked many parties together and understand each other's shorthand.
Here I am below with a young party guest!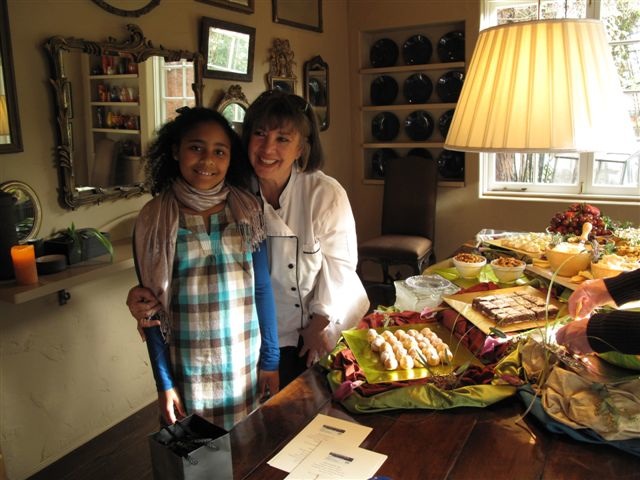 Bon Appetit!
And please visit my other blog, pain perdu.
Gisele