Mardi Gras in L.A.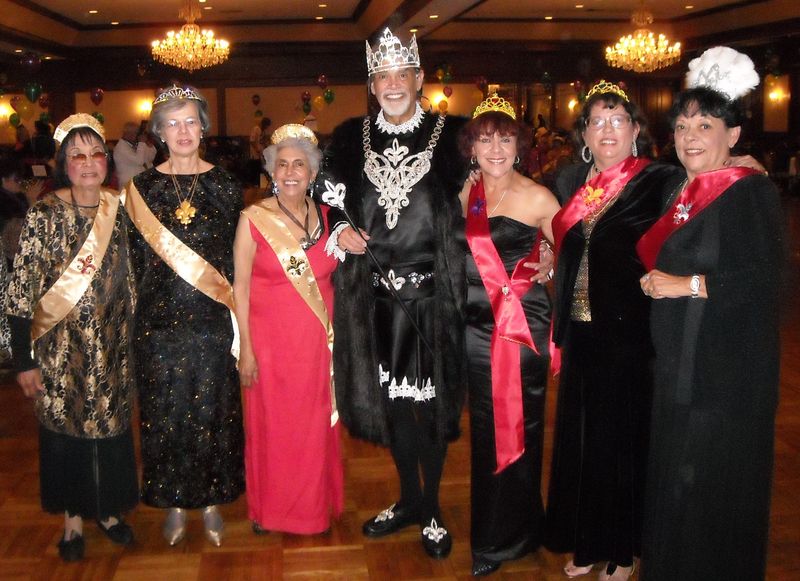 As those of you who read this blog know, we are in the full swing of Mardi Gras season- even here in L.A., two thousand miles away from NOLA. There was a huge Mardi Gras ball this weekend in L.A., and while your LA2LA Chef was not in attendance she received this report from one of her relatives who was.
"The ballroom was filled with the sounds, sights and the revelry that is Carnival in New Orleans, including the fancifully decorated umbrellas that bounced to the beats of the Second Line snaking through the large, colorful  room.  These (mostly) New Orleans expats and their offspring, know how to celebrate Mardi Gras and celebrate they did!  "Laissez les bon temps roulez" was the rule of the day. The only requirement was revelers had to come costumed.
There was no formal theme for the ball, but the undercurrent of support and excitement for the Saints was strong, with Saints jerseys dotting the room and the fleur de lis, the favored accessory, could be seen on many of the costumes, masks and umbrellas.  A pair of revelers, who won the award for the most beautiful costume worn by a couple, wore large gold fleurs  as the major attraction on the back of long black capes and masks made of gold and black fleurs de lis. Another large family of revelers was attired in black clothing, black high hats with white banners across their chests bearing the names of streets in the Seventh Ward of New Orleans, the area from which many, if not most of the revelers, once lived. The only design other than the street names on each banner, was the simple, elegant fleur de lis. The caped wonder, Bat Man, was seen sporting a gold and black fleur de lis with the words "Who Dat" emblazoned across his chest. Another group of royal ladies (one of whom even flew in from New Orleans to attend), all of whom wore fleur de lis designs on banners across their bosoms, accompanied a king* , who had the fleur prominently displayed on his crown, tunic  and shoes. Yep-the fleur de lis ruled supreme."
*That would be my relative. Thank God he was the most beautiful single costume winner- there was widespread grumbling heard last year, when his Cardinal costume didn't take the prize, that the judges' ruling was tinged with nepotism.

"Laissez les bon temps roulez"  y'all.