Barbecued Shrimp- Good for Super Bowl, and Good for Valentine's Day, too!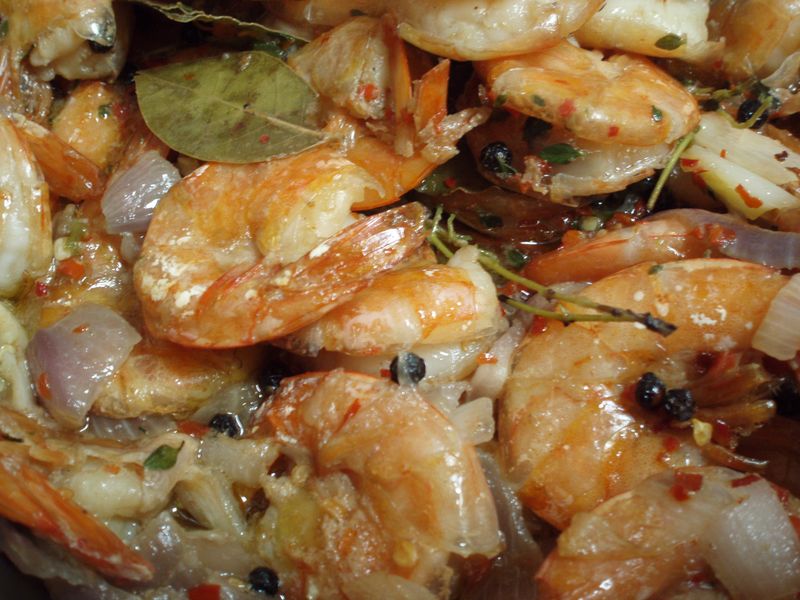 In my last post, I mentioned how attached New Orleanians are to pecans. There are a good number of food items we are feel very strongly about-red beans, rice, crabs, crawfish- but if I had to pick the one food we are most passionately in love with, it would hands down be shrimp. My mother told me that even though she was mildly allergic to them as a child, it never stopped her from downing her share.
At our Super Bowl party last week, it showed up in several dishes- the jambalaya I made, my cousin Adele's barbecued shrimp, even my Salvadoran sister-in-law who rarely enters her kitchen to cook, brought a great shrimp ceviche.
Barbecued shrimp is an interesting dish. New Orleans has no tradition of barbecue like many other cities in the South. Barbecued chicken in NOLA means chicken baked in the oven slathered with barbecue sauce, a treatment also often given to sausages.
Barbecue shrimp is also cooked in the oven, but there's no barbecue sauce involved, so go figure. It's still a mighty fine way to cook up some shrimp, though. It was great at Super Bowl, and it's a great idea for an intimate little Valentine's feast, too. I strongly contend that the best Valentine's Day foods are succulent little bites that you can hand-feed your paramour. Feeding each other this way is just so sensuous, it's bound to lead to further activities, if you get my drift. And champagne, the elixir of love, happens to be a perfect accompaniment to shrimp, IMHO, as well as spicy foods- which these definitely are, so beware. Continue here for the recipe…