Fried Shrimp and Oyster Po'Boys
My young cousin, Kelly (who is now settled in Los Angeles) returned from her Christmas vacation in New Orleans bearing gifts. I picked her up from the airport yesterday morning, and there she was carrying a cooler filled with Gulf shrimp and oysters (just as my father and his fellow expats had so many times in years past), along with a slab of hoghead cheese, to which my mother quickly laid claim.
So, of course, po'boy sandwiches were in order. For those Los Angeles folks reading this, po'boys are to NOLA as tacos are to L.A.
A while back my friend Ann Keeler Evans, aka The Wedding Priestess, sent a New York Times article (she's an inveterate NYT reader) which implied that the po'boy might be an endangered species in New Orleans. I sure hope not (although it must be admitted that I, too, have experienced some less than stellar po'boys in NOLA). Putting all sorts of things between the slices of French bread has been a way of life for a long time in NOLA- hot sausage, fried shrimp, oysters, catfish and soft shell crabs. Chef Leah Chase even tells a story in her book, And Still I Cook
of a man who came into her restaurant one day and asked for a "hungry man" sandwich. Having not a clue what he meant, she says " I did the only sensible thing I could-I asked him." He let her know that a "hungry man" was French fries on French bread- fully dressed, of course- meaning it comes with tomatoes, lettuce, pickle slices and mayonnaise. "Every self-respecting New Orleanian knows that you haven't eaten a real sandwich until you've had a New Orleans style po'boy", says Ms. Chase. I remember, when I was a child, my parents referring to a shrimp or oyster loaf (as it's also often called) as a "peacemaker," as in pick one up for your wife on the way home if you've been out with way too late.
The fear of its endangerment arise partially from concerns of a homogenized culture taking hold in New Orleans, bringing with it Subway and Quiznos shops. Well, let me say right here, that a Subway or Quiznos sandwich will never rise to the standards of a real NOLA po'boy. I'm enjoying my mixed shrimp and oyster loaf-with real Gulf seafood, and I hope you'll take the time to make a real po'boy and enjoy it, too.
Bon Appetit!
Gisele aka LA2LAChef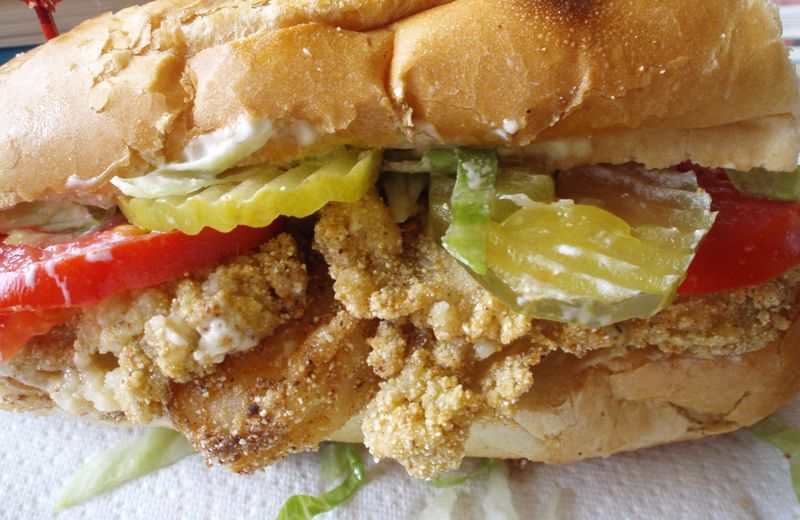 Shrimp and Oyster Po'Boy*
4 or 5 each shrimp and oyster* (depending on the size of your bread)
Mix together:
1 cup Fish Fry
1/2 cup Corn Meal
1 teaspoon Seafood Magic or other Creole seasoning
1 teaspoon Granulated Garlic Salt with Parsley
 4 cup  vegetable oil
@ 1/2 C. Shredded Iceberg Lettuce
 2-3 slices ripe tomatoes
2-3 dill pickle slices
1 hoagie sized French roll (I used bolillos from my neighborhood Mexican grocery. I recommend Cuban bread, too, if you're lucky enough to live near a Cuban baker.)
Best quality mayonnaise, or for an adventure use aioli.
*or 8-10 of either shrimp or oyster- may be made with all shrimp, all oyster or a combination of both
Heat the vegetable oil.
Dip slightly moist shrimps and oysters in the corn meal/fish fry mixture. Fry in the hot oil until just golden brown, then drain shrimp and oysters on paper towels.
Split, butter and lightly toast the bread. Brush toasted bread with mayonnaise.  Fill the loaf with shrimp/oysters. Dress the sandwich with shredded lettuce, tomatoes and pickle slices.