John Besh's and My New Orleans
Besh's book is not just another cookbook. While it contains 200 recipes, it's also a beautiful coffee table book with gorgeous archival and present day pictures of NOLA and its families and characters at work and play, at Mardi Gras, on the waterways, and at the table. Its contents are not organized in traditional cookbook "appetizer to dessert" order, but rather by ingredients, seasons and feast days- some of those days meriting their own chapter- like Mardi Gras and Thanksgiving. Speaking of ingredients, the book is also full of sidebars with background notes on the glorious ingredients available to New Orleans cooks-i.e. Creole tomatoes, Ponchatoula strawberries, and mirlitons, and speckled trout and Gulf oysters.
At a retail price of $45, My New Orleans seems a bargain to me, and will, no doubt, to every one who holds the city in its heart.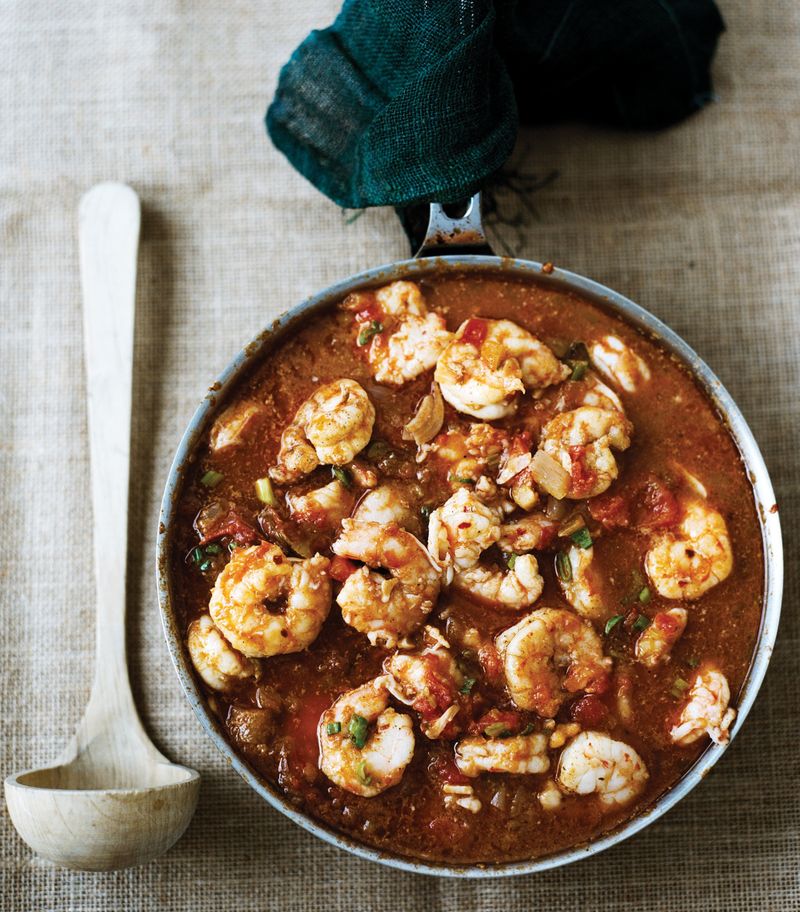 Shrimp Creole
5 pounds jumbo Louisiana or wild American shrimp
Salt
Freshly ground black pepper
1 T. minced fresh lemongrass
1/2 C. olive oil
3 medium onions, diced
10 cloves garlic, thinly sliced
1 stalk celery, diced
1 bell pepper, red, green or yellow, seeded and diced
5 pounds very ripe Brandywine or other heirloom tomatoes, peeled, seeded and chopped
1 bay leaf
1/4 t. ground allspice
1 T. crushed red pepper flakes
Leaves from 2 branches of fresh basil
Leaves from 1 sprig of fresh mint
Sugar
1. Put shrimp into a large bowl, season with salt and pepper, then mix in the lemongrass. Heat 1/4 C. of the oil in a large deep skillet over moderate heat. Add the shrimp, stirring and tossing them with a spatula, until they turn pink, about 2 minutes. Remove the shrimp from the pan and set aside.
2. Into the same skillet with the oil and and shrimp juices, put the remaining 1/4 C. oil,  and the onions, garlic, celery, and bell peppers and cook, stirring constantly with a  wooden spoon, for about 2 minutes.
3. Add the tomatoes. Reduce the heat to medium low, and when the sauce comes to a simmer, add the    bay leaf.allspice, and red pepper flakes. Simmer for 10 minutes.
4. Add the shrimp back to the skillet, along with the basil and mint. Cook for a minute or two. Season with salt and pepper. If the sauce is a little too tart, add a little sugar to balance the flavors. Serve over steamed white rice.
Serves 12-15
Crawfish and Shrimp Creole Photos Courtesy of Ditte Isager/Edge Reps and Andrews McMeel Publishing
Enjoy! and please visit my other blog: www.smallpleasurescateringblog.com