All Cuisine is Fusion Cuisine- and Asian Spiced Duck Tamales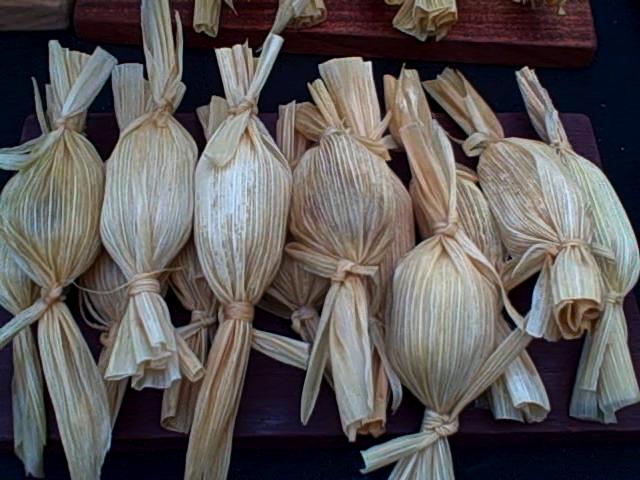 I was pulling on my socks and shoes early last Saturday morning, about to head off to the farmer's market, when the thought came to me- "all cuisine is fusion cuisine".
It wasn't a complete non-sequitur. On Wednesday evening I was sitting with a friend at a lovely event  called A Taste of Santa Fe, brought to the Hotel Shangri-La in Santa Monica by the Santa Fe Convention and Visitors Bureau. My friend and I were listening to a presentation given by  the thoroughly entertaining Chef Rocky Durham, Culinary Director of the Santa Fe School of Cooking.
He was talking about the foods we take for granted today- like chiles, tomatoes, potatoes, squashes, corn, beans, and chocolate- that are indigenous to the American Southwest, and completely unknown to the rest of the world before European explorers brought them back to the "old world." That's right-think Ireland without potatoes, Italian food without tomato sauce and polenta, and amazingly, even Indian and other Southeast Asian cuisines without chiles!
He then introduced his Duck Tamales (hang on the recipe is coming), which he told us incorporated some Asian spices- namely ginger, soy and star anise (Chef Rocky worked under Chef Ming Tsai for a while). Now I love fusion cuisine, but my friend said "I don't normally like fusion cuisine, but these sound good. I'll have to give them a try."
The next evening, I happened to be at the opening festivities of  America I Am, a show celebrating the African imprint in America, at the California Science Center, where the East African curries (which are really Indian in origin) were served. Are you beginning to see where I'm coming from with this? And the day after that, I received my copy of Chef John Besh's newly released coffee table cookbook, My New Orleans, in the mail. New Orleans – ground zero for fusion cuisine on the  North American continent! So starting out in New Orleans and ending up in L.A., seems like I've been eating "fusion food" pretty much all of my life.
Needless to say, the Duck Tamales were delectable. And yes, Chef Rocky graciously sent his recipe for the absolutely delicious tamales. He writes that the "masa recipe is slightly untraditional, but the light, creamy texture is fantastic with the duck filling." I agree.
Duck Tamales
For the Masa:
1 1/2 pounds masa harina

6 ounces unsalted butter, softened

2 teaspoons baking powder

2 teaspoons salt

5 1/2 cups warm water (or as needed)
Cream together butter, baking powder, salt and masa harina with an electric mixer until a light, even texture is achieved. With motor running, pour in warm water until a creamy, spreadable texture is achieved.  Cover tightly and set aside at room temperature until needed.
For the Filling:
8 duck legs

12 ounces  dark soy sauce

3 cups brown sugar

3 oranges, cut in half

2 bunches scallions, chopped

6 tablespoons fresh ginger root, chopped

2 sticks canela

4 pieces star anise

4 guajillo chiles

Water as needed
Reserving 1/2 cup chopped scallion, place all other ingredients in a stock pot and add water until legs are JUST covered.  Bring mixture to a simmer and cook until meat pulls easily away from the bone (approximately 1 1/2 hours).

Remove legs from the liquid and reserve. Pick the meat and skin from the bone and place in work bowl of an electric mixer.

Return the bones to the liquid and simmer to reduce until a syrupy consistency is achieved.  Strain the liquid  to use later on cooked tamales. 

Add the reserves 1/2 cup finely chopped scallions to the meat and mix until it has the appearance of pulled pork.
Yield 3-4 dozen
The directions for forming and steaming the tamales are adapted from Rick Bayless's Authentic Mexican :
Preparing Corn Husks:
Simmer the husks in water to cover for 10 minutes, weighted with a plate to keep them submerged. Then let them stand off the fire for a couple of hours until the husks are pliable. When you are ready to form the tamales, separate out the largest and most pliable, and that are at least 6 " by 6-7″ long. If you can't find enough good ones, overlap some of the larger ones to give wide, sturdy, unbroken surfaces to spread the dough on. Pat the chosen leaves dry.
Forming tamales:
Tear extra husks into 1/4″ wide strips, to tie tamales. Lay out a large, lightly dried corn husk. Spread a portion (@ 3-4 Tablespoons) of the dough into about a 4-inch square, leaving @ a 1 1/4″ border along the sides. Spoon the filling down the center of the dough. Pick up the the two sides of the corn husk and bring them together, causing the dough to surround the filling, then wrap it around the filling. Twist and tie off the ends (not too tightly, they will expand during steaming).
Steaming the tamales:
Set up a large saucepan with a collapsible vegetable steamer or a Chinese bamboo steamer and @ 1″ of water. It's best to line the steamer with extra corn husks to protect the tamale from direct steam contact, and to add more flavor. Make sure there are small openings for drainage, so condensing steam won't pool.  If the tamales don't take up the entire steamer, fill in the open spaces with loosely wadded aluminum fill to keep them from falling down. When all the tamales are in the steamer, cover them with a layer of leftover husks. Set the Lid in place and steam over a constant heat for about 1 hour.
Open the tamale husk and drizzle approximately 1 tablespoon of the yummy, and syrupy duck sauce over the duck tamale, and let your mouth delight if the fragrance of "fusion cuisine".