From Ain'ts to Saints- and a Sandwich in Their Honor
This Sunday I attended the Alumnae Brunch of the Xavier University Club #6. Club #6 happens to be the Los Angeles chapter New Orleans' Xavier University, and the largest and most active of the alumnae chapters of Xavier outside of New Orleans itself.
While the business at hand was fund raising, there were many updates throughout the day on the status of the Saint's game. Norman Francis, President of Xavier University for 4 decades (and recipient of the Presidential Medal of Freedom) got up to speak, and the first thing he said was "I watched the first half of the Saint's game in my hotel room this morning, and I want to give you an update." He gave the latest score, and talked about the team going to the Super Bowl this year- "from ain'ts to Saints".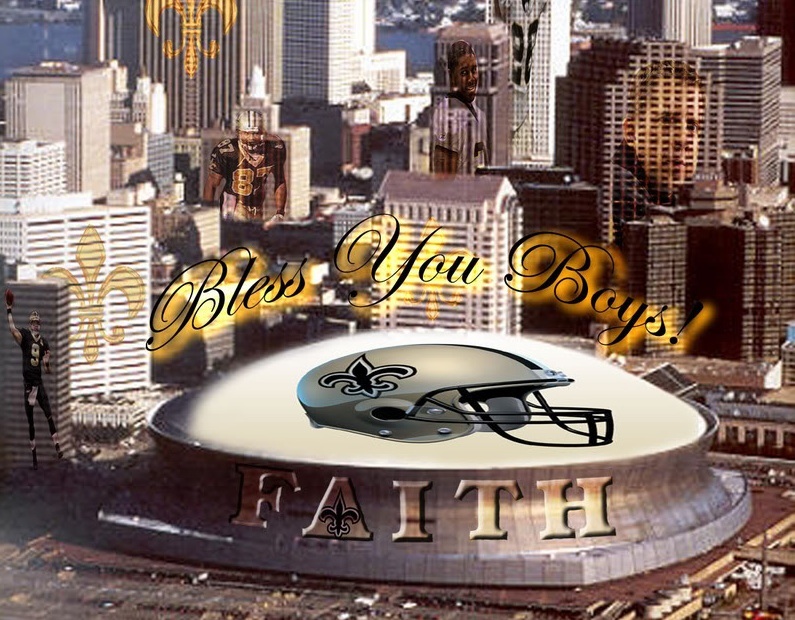 In 2006, the year after the flood, the Saints made it to the playoffs, and I remember my brother,  Al,  saying, "now Uncle can die happy" referring to my Uncle Roy, the last of my father's remaining siblings. They didn't make it to the Super Bowl that year, although New Orleans valiantly supported their team, and gave them a rousing welcome home parade in spite of their not quite making it. Al told me this morning that this year is their best shot. "They've got a great team," he said, "and they're undefeated so far."
In their honor, I'm offering my Cal-Italo version of a New Orleans Italian classic, the muffelata. A fellow catering chef, who also happens to hail from the Crescent City area, and who I sometimes run across once said to me, "Why would anyone eat a muffelata, when they can get an oyster po'boy?"  Well, I know what he means. I've never cared for pickled vegetables myself, and the traditional muffelata sandwich tops its selection of Italian deli meats with a green olive and pickled vegetable salad (usually containing cauliflower, carrots and celery). I also happen to prefer black olives to green, so I've come up with my own way of dressing the sandwich. I hope you'll enjoy it.  And go Saints!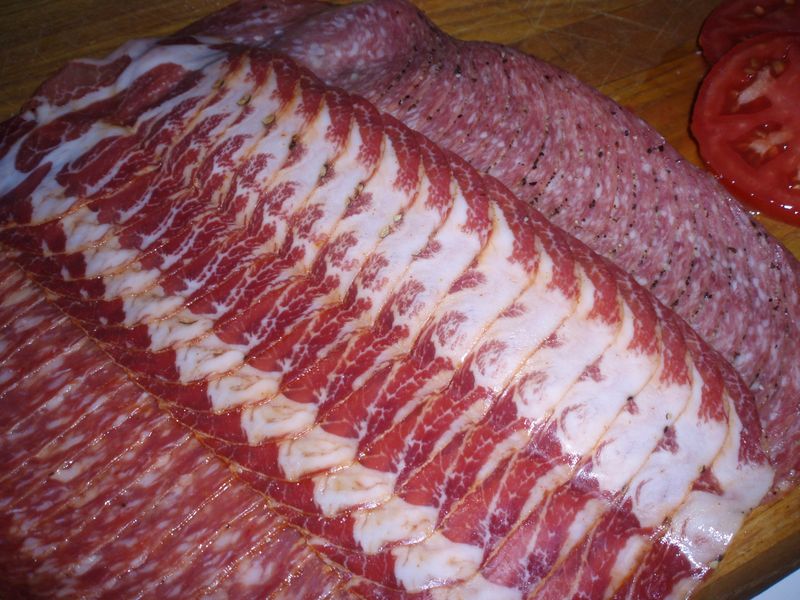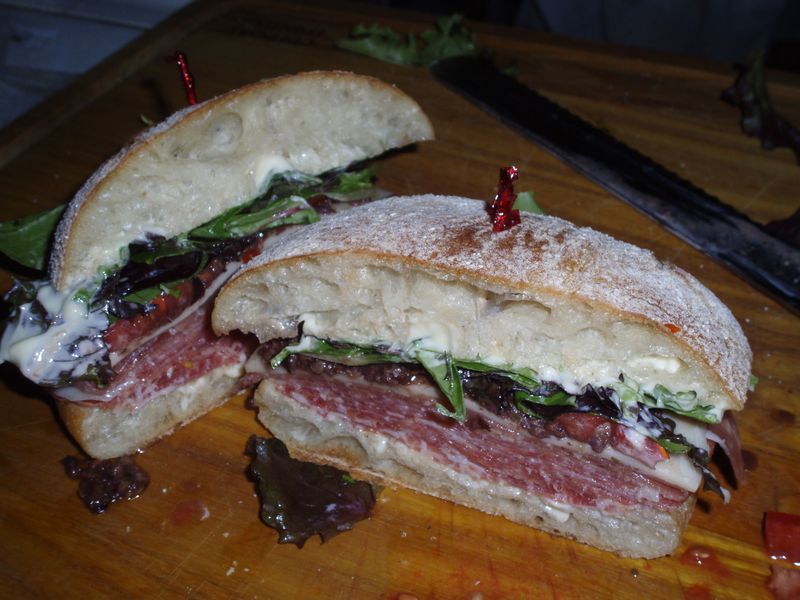 "Cal- Italo" Muffelata
For each sandwich:
3-4 slices each of :




Mortadella, Capocolla, Salame, and Calabrese (or any combination thereof)

2  slices of very thin Prosciutto

1-2 slices Provolone Cheese

1/2 Roasted Red Bell Pepper

Tapenade *

Lettuce and Tomatoes

Mayonnaise (or if you're feeling ambitious, you can make some aioli)
I like to use a crusty California style Petit Pain  Rustique (available at La Brea Bakery and Trader Joe's here in L.A.) for individual sandwiches. You can use larger Pain Rustique, Foccacia, or Ciabbata, and slice the sandwiches into smaller pieces. In New Orleans, they use a softer Italian, and usually sesame crusted, loaf.
* I make my own, using the following recipe from Joyce Goldstein's The Mediterranean Kitchen
, but you can use premade tapenade available at Costco, Trader Joe's or Whole Foods.
Tapenade
1 cup pitted Niçoise or Kalamata olives (okay- you can throw in some green olives, too, if you like)

2 tablespoons rinsed and chopped capers

1 tablespoon minced garlic

2 teaspoons  rinsed and chopped anchovies (you can leave these out if you are serving vegetarians, but if you aren't please keep them in)

1/2 teaspoon or so of freshly ground black pepper

2 tablespoons of Cognac or Armagnac (optional)

1 tablespoon of grated orange zest (optional)

4-6 tablespoons of extra virgin olive oil
Place all the ingredients in a blender and pulse until pureed, but still slightly chunky. Ms. Goldstein advises us to use it "recklessly".
Yield: @ 1 cup
Aioli
1 whole egg

1 egg yolk

Juice of 1/2 lemon

3 large cloves garlic (or more if you are brave)

@ 1 1/2 T. kosher salt

1 scant t. Dijon mustard

1/2 cup extra virgin olive oil

1 cup canola oil
Place   the egg and yolk in a food processor bowl. Squeeze the lemon juice   over them and let sit for 10 minutes

Sprinkle  over garlic and mash to a paste Add to the egg and yolk along with the mustard

Then slowly drizzle the oil through feed tube of the food processor until an emulsion forms.


Finish with freshly ground white pepper and a few more drops of lemon juice, to taste
Yield: @ 1 1/2 cups