A Perfect Menu for an Outdoor Summer Wedding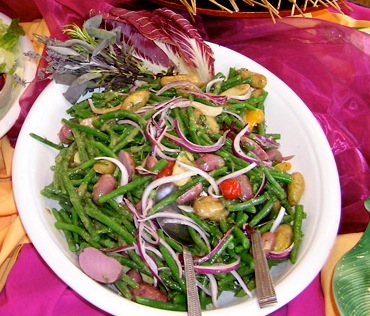 Okay, we're right on the verge of Memorial Day, traditionally the start of the summer season. It's already warming up here in L.A., and the wedding season is on!
It's no coincidence that summer is prime wedding season. It's natural to want to take advantage of the great outdoors for your wedding- the bright, warm light, and the long days.
Here's a suggestion for dining under the sun, though. Keep your guests' mind off the heat by serving a menu of room temperature foods.
Let me share a little story from my personal experience to illustrate my point. A few years back I was a guest at an outdoor wedding on one of the hottest days of the year, in the midst of a prolonged heat wave.  As I sat under the hot sun and looked at the salmon and chicken (with mushroom gravy, no less) steaming away in a row of chafing dishes, on a buffet decorated with lemon leaves drying out in the heat, I couldn't help thinking that this couple would have been much better advised to serve a menu of room temperature food. Believe me, I can't think of any summery foods that fare well from sitting and steaming in a chafing dish! I, along with the other guests, could barely wait for an appropriate amount of time out there, before we could get somewhere cooler.
Okay, so I know it's an occupational hazard to want to remake parties I'm attending, but I just couldn't help think this couple would have been much better advised to serve a menu of room temperature and just plain summery foods. We all eat differently during the hot months- we crave lighter, more vibrant foods.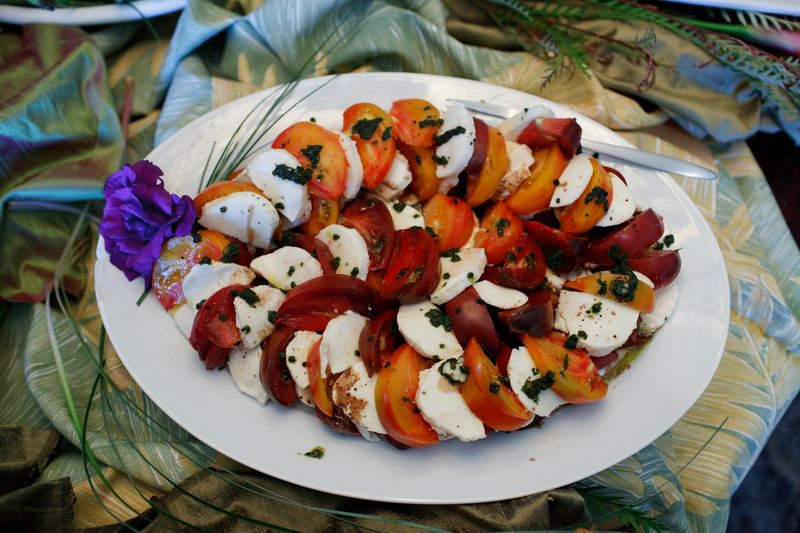 Heirloom Tomato and Mozzarella Salad
Here in SoCal, we are so blessed to have an abundance of great produce, so I would go heavy on the salads-heirloom tomatoes, served with sliced buffala mozzarella, torn basil leaves and a drizzle of extra virgin olive oil and balsamic vinegar, fresh peaches or figs quartered and draped with thin slices of prosciutto, tender young Blue Lake green beans, cherry tomatoes and fingerling potatoes dressed in a mustardy vinaigrette with a healthy handful of herbs tossed in. Even the main dishes, like grilled salmon, filet of beef, or lamb tenderloin are great served at room temp. Serve a great Mediterranean sauce like Aioli, Rouille, Salse Verde or Tapenade to accompany them. Decorating your buffet table with pots of summer herbs is a nice embellishment, and as the afternoon wears on, you'll delight in their fragrance.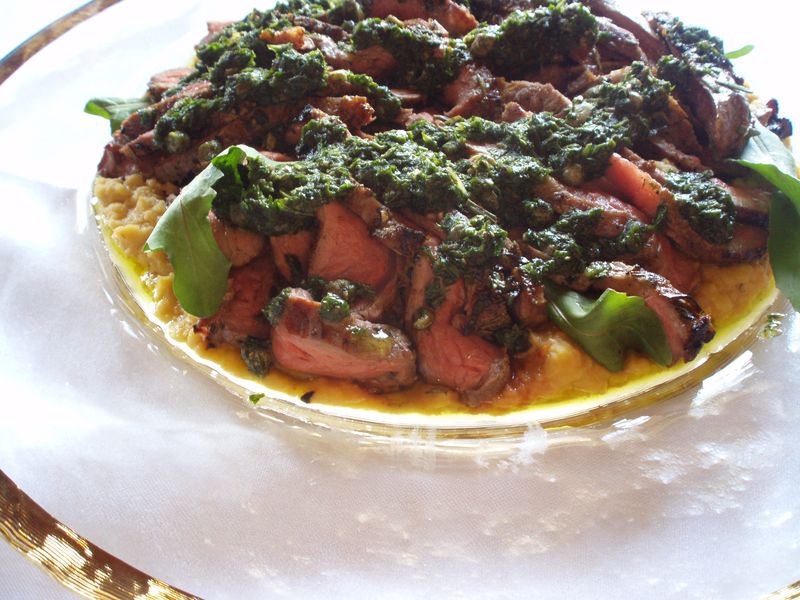 Grilled Tenderloin of Lamb with Salse Verde
As an added bonus, you'll save on your rental bill by doing away with your need for chafing dishes and heating cabinets. And your guest will won't be dying to get away to cooler spot.
Bon Appetit!
Gisele
Save