Put Some Thought into Creating a Truly Personal and Memorable Wedding Reception
In my last post I wrote about how planning a wedding reception that's something other than the big Saturday night sit down dinner can often save money.
Besides saving money, putting some creative thought into planning a celebration you and your guests will truly love, will undoubtedly result in a much more personalized day.
First, I have to stop right here and say that I am somewhat biased against the aforementioned "default" reception. I've never quite enjoyed being seated at a table (sometimes with people I don't know) and stuck there throughout the night waiting for a banquet server who's rushing through the evening to get my plate in front of me. Or asking the people at table with me to please pass the salad dressing or butter which happens to be sitting on the opposite side of the table. I really don't enjoy the plate I'm served being yet another uninspired "rubber chicken" or dried out salmon meal with either an under cooked or over cooked "vegetable melange" (read whatever cheap vegetables the kitchen has on hand).
To my mind, any time we entertain valued guests, we are giving a gift to our loved ones.
When the party is a wedding reception, we are also creating a wonderful, once in a lifetime celebration, one about which we want ourselves and our guests to have great memories. Thought should be put into the details of the party. What kind of food would I and my guests really love?  How can I create something fun and memorable for them? What would they enjoy doing for these few hours we're together celebrating? Hint-it's certainly not being stuck in a chair in a crowded nondescript hotel or banquet hall room. I like to wander around the room, visit with lots of other guests, and eat really great food.
I catered a backyard wedding last June where the young couple chose to have a station with pizzas, topped with several various yummy items, and cooked to order, added to their buffet of several salads, grilled lemon chicken, asparagus and peppers, with farmer's market fingerling potatoes. Instead of a wedding cake they had a brownie and ice cream sundae bar, with 4 different types of brownies, and lots of different sauces and toppings for the ice cream. I really got a kick out of watching the groom as he enjoyed sampling and comparing each type of brownie with the various sauces and toppings.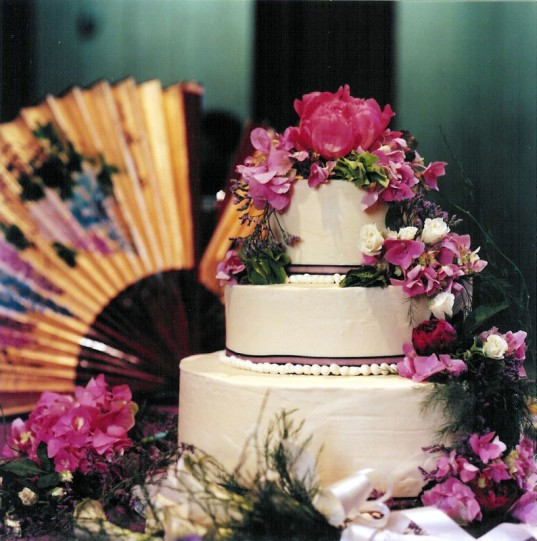 I've catered weddings in the past, where the couples chose to have Western food, as well as incorporate stations with foods from their ethnic backgrounds, like Korean, Chinese and Japanese. We decorated the station at one with big brightly colored fans purchased in Chinatown.
I remember, as a young woman attending a great afternoon picnic wedding in the park, where the guests were entertained, while sitting at picnic tables and on blankets on the grass, with great musical and street theater performances, reflecting the artistic tastes of the bride. And another, as a somewhat older woman, at a winery in Sonoma County with sweeping views, where the guests were offered a selection of great box lunches, to enjoy as we sampled the wines, and decadent chocolate truffle tortes (which I gave as a gift to the couple) for dessert. I've remembered all of these weddings with many more  warm thoughts than those stuffy sit down banquets I've attended.
So put some thought into putting your personal stamp on your wedding reception, and give your guests something to remember fondly for years.