Creative Menus for Tough Times
Speaking of the current economic climate, my latest issue of "Biz Bash" magazine (a trade publication for event professionals) featured an article titled "New Takes on an Old Bird"- a response, obviously, to the tough times we're in. While only a year ago, catering publications were touting a return to beef, the times now demand a new look at chicken. The article showcased "budget-friendly" chicken dinners created by several caterers.
Now I know we all tend to think of the old moniker "rubber chicken" when we think of catered meals featuring the bird, but I, too, maintain that it's possible to have a great chicken entree.
The menus items featured included Chicken Breast with Apricot and Cornbread Stuffing served with an Ice Wine and Apricot Sauce; Sous Vide Chicken Leg Stuffed with Mushroom Mousse served with Spinach, Chanterelles and Fried Parsnip Chips and a Panko-Crusted Chicken Roulade with Porcini Red Wine Jus.
I have found that stuffing chicken breasts, rolling them into roulades and using the dark meat of chicken, offer very interesting methods for a tasty chicken dish. Stuffing helps maintain moisture as well as add flavor, and the dark meat is just naturally more tasty and moist. An old favorite of mine is a Spinach Stuffed Breast of Chicken served with Shiitake Mushroom Sauce and a new favorite is Mustard and Shallot Crusted Chicken Thighs  served on Braised Leeks, a recipe adapted from Suzanne Goin's  Sunday Suppers at Lucques: Seasonal Recipes from Market to Table
.
I also love making roulades from turkey breasts- Herb and Prosciutto Stuffed Turkey Breast Roulades served with Roasted Garlic Sauce and Shiitake Mushroom Stuffed Turkey Breast Roulades with Wild Mushroom Sauce are two of my favorites. Clients who are serving a smaller number of guests at Thanksgiving love the roulades, finding them just the right size. They also appreciate that they are easy to slice, hence bypassing the whole carving issue.
Here's a pic of the sliced turkey breast below served with a Sweet Potato Puree with Pecan Praline Topping. Really yummy!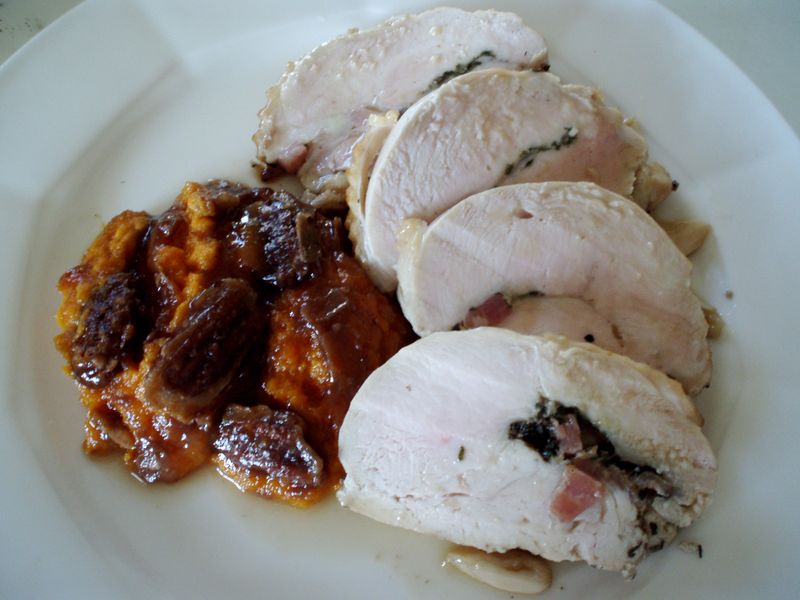 More value friendly menu ideas coming up later this week.
Bon Appetit.